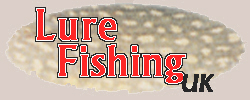 Updates
20th November 2017
a long overdue tidy-up of the links pages. Lots of dead links removed or updated, and a few new ones added.
25th May 2015
22nd January 2015
all dead links removed from links pages, and now signed copies of my book are available direct from me
4th September 2014 News
My book: Lure Fishing Presentation and Strategy,will be launched at the Pike Anglers Club Annual Convention, at the Ricoh Arena on 27th September, more information here
24th January 2014
new links to Bespoke Florida Fishing (USA), American Legacy Fishing (USA).
2nd January 2013
new links to SBS Trailers (UK), TrailerTek (UK), H&R Marine (UK), Het Winkel (Netherlands)